The Christian Olympics: Going for the Gold Crowns, unveils the Bible's comparison of the Christian life to the Olympic Games. And just as the participants in the Olympics are competing to come in first place, Gregg encourages believers to strive to win the gold prize in the Christian race.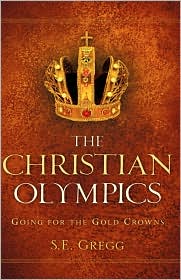 Sad to say, however, many Christians are falling by the wayside. Many have lost all hope of ever living a victorious life in Christ. Many Christians don't feel that living holy lives matters anymore and many have become discouraged in their daily walk with the Lord, because they are bombarded on every side by personal problems, suffering, and worldly events.
S.E. Gregg recognized this loss of spiritual fervor in the hearts of many Christians and was inspired by God to help ignite the spiritual flames once again, and to help get believers back into the Christian race. Taking to heart the Words in Hebrews 12:1: "…let us lay aside every weight, and the sin which doth so easily beset us, and let us run with patience the race that is set before us", Gregg encourages believers to look forward and to press forward to the blessings that lay ahead as a reward for finishing the race.
The Christian Olympics: Going for the Gold Crowns will help you to:
See yourself as an Olympian and a victorious spiritual athlete.
See yourself running in a spiritual Marathon.
Discover who the Players are in the competitions.
Understand the significance of being a Spectacle.
Train for the competitions with spiritual exercises and discipline.
Plan strategies and develop a Game Plan to win the competitions.
Gear Up and get equipped for the competitions.
Find Contentment with your own God given supernatural abilities.
Learn how to do spiritual Boxing and Wrestling.
Learn how to do Long Jumps over your spiritual Hurdles.
Learn why suffering is a Spiritual Workout.
Learn how to endure and be a Finisher.
Find out what Gold Crown you have already earned.
Gregg strongly believes that when Christians see themselves as competitors in an Olympic game, they will gain a new understanding and excitement for the Christian life.