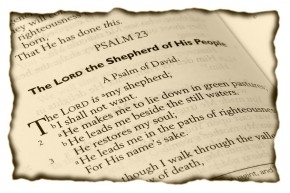 One of my favorite PraiseMoves Scripture Sequences follows the 23rd Psalm.
A Scripture Sequence involves taking a portion of scripture (such as the Lord's Prayer or one of the Psalms) and linking it to a series of PraiseMoves postures. We flow from one posture to the next, seeking to mirror the beauty of God's Word as we meditate on the scripture and endeavor to glorify God in moving prayer.
In this way, we hope to express the foundation scripture of PraiseMoves, "For you were bought at a price; therefore glorify God in your body and in your spirit, which are God's" (1 Corinthians 6:20).
There are HOW MANY Names of God?
Our Father has many, many names in the Hebrew bible (some say as many as 144!), each describing a different aspect of His greatness and power — from Adonai (The Lord; mentioned 360 times) to Yahveh ("I am that I am"; mentioned 6,800 times). Jehovah is an Anglicized translation of Yahveh.
Understanding the protection and provision of the Lord in this psalm of David gives us a picture of 7 other names for God. You may meditate on these during your prayer time, or as you enjoy the Ps. 23 Scripture Sequence:

1. "The Lord is my Shepherd"
– Jehovah Rohi (The Lord is my Shepherd and my Guide) – "However, when He, the Spirit of truth, has come, He will GUIDE you into all truth" John 16:13.
2. "I shall not want"
– Jehovah Jireh (The Lord is my Provider, so I do not want; He supplies all my need according to His riches in glory by Christ Jesus, Philippians 4:19)
3. "He makes me lie down in green pastures; He leads me beside the still waters"
– Jehovah Shalom (The Lord is my Peace — my calm in the midst of a storm) – "Now may the God of PEACE Himself sanctify you completely" 1 Thess. 5:23.
4. "He restores my soul"
– Jehovah Rapha (He is my Healer) – "And by His stripes we are healed" 1 Peter 2:24 (and Isaiah 53:5)
5. "He leads me in the paths of righteousness for His name's sake"
– Jehovah Tsidkenu (The Lord is my Righteousness; in Him I have
right standing with God) "For He made Him who knew no sin to be sin
for us, that we might become the RIGHTEOUSNESS of God in Him" 1
Corinthians 5:21.
6. "Yea, though I walk through the valley of the shadow of death, I will fear no evil; for You are with me"
– Jehovah Shammah ("The Lord is There"; He is our Ever-Present God)
– "For He Himself has said, 'I will never leave you nor forsake you'" Hebrews 13:5.
7. "Your rod and Your staff, they comfort me. You prepare a table before me in the presence of my enemies"
– Jehovah Nissi ("The Lord is my Banner," my standard, He covers me) – "When the enemy comes in like a flood, the Spirit of the LORD will lift up a STANDARD against him" Isaiah 59:19.
"You anoint my head with oil; my cup runs over. Surely goodness and mercy shall follow me all the days of my life; and I will dwell in the house of the LORD forever." Amen!
(Adapted from Fit Favorites Devotional Book by Laurette Willis, 2008) available at www.PraiseMoves.com.
Laurette Willis, Director of PraiseMoves, LLC
www.PraiseMoves.com