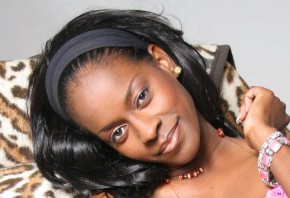 Welcome Ladies! You've got questions, and I've got answers so Let's Talk Beauty!
Q. Hi, I'd like to know what is the proper way to apply moisturizer; should it go on before or after your concealer?
A. Your moisturizer is going to be applied during your cleansing process. You want to first use your facial cleanser to remove all of the dirt and oils from your skin. Next you want to apply toner to restore your skin to its proper ph balance. Finally, at this point you are going to apply your moisturizer. This is the preliminary process before you start you makeup application.
Q. Mia, I'd like to know if you are dark skinned is it possible for you to create the smoky eye-night/glam look, and if so how?
A. Yes it is possible to create a smoky eye on darker skin. Traditionally, when you think of the "smoky" eye you immediately think of a black or very dark grey shadow on the lid to create a dramatic evening look. However, a smoky eye can be created with other colors not just grey or black. For darker skin try using a deep emerald shade of green, or a rich shade of purple or burgundy. You can also create a beautiful look on dark skin with shades of pewter/silver. Don't be afraid to play with the color. Mix and match and see what looks best on you. The most important thing for you to remember when creating a smoky eye is to blend, blend, and when you think you've blended enough blend some more. You want to ensure that there aren't any harsh lines that clearly show where your shadow starts and stops.
Q. Please advise where I may be able to find the shimmer eyelid liners, thanks.
A. You can go to your local Sephora to find a wide variety of liquid or pencil shimmer eyeliners. Sephora is a beauty store which can be found in most major shopping malls, and it carries a variety of cosmetic lines such as: Urban Decay, Stila, and Smashbox to name a few. WARNING: Enter any Sephora store at your own risk! This store is extremely addicting, and there is a very strong possibility that you will happily walk out of the store dead broke carrying at least 2 of every item that the store sells! Consider yourself forewarned!
Q. My question is how can I get smooth & flawless skin?
A. The best way for you to achieve smooth & flawless skin is to watch what you eat, and drink lots of water. Consuming large quantities of fried food, pizzas, fast foods, sodas, and sweets can cause you to have excessive break outs and blemished skin. Keep your consumption of these types foods to a minimum and drink plenty of water. Drinking pure water without flavoring or carbonation is the best way to achieve clear skin.
Q. What is the best way to use concealer before or after foundation application?
A. It's a matter of preference. You can actually apply concealer before or after your foundation. If I am applying foundation on a client that has acne or skin imperfections I will dot concealer on the problem areas before I apply the foundation. If I am covering dark circles I will apply the concealer after I've applied the foundation, and if I am transforming a client will severely blemished skin I will actually layer concealer and foundation applying it before and after the foundation so it really depends on what you feel comfortable with, and what look you are trying to achieve.
If you have a question that you would like for us to answer during our next Let's Talk Beauty forum send it to info@lesfleurcosmetics.com.