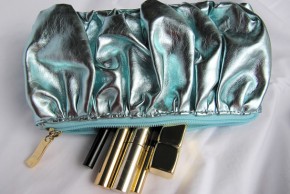 The key to looking beautiful during your next evening gala (or during any event for that matter) is to make sure that you have the proper tools in your makeup bag. Contrary to what many may think, there are only a few items that you need to carry in your bag to make sure that you can touch up your face and maintain a glowing fresh look.
1. Lipstick or lip gloss
Eating, talking and snacking all night can easily wear out your lipstick. You want to carry this in your makeup bag because you will always need to freshen up your lip color.
2. Eyeliner
Touching up your eyeliner can give your eyes a little pop and instantly freshen up tired or sleepy eyes.
3. Mascara
Mascara will always make the eyes pop and appear more vibrant just as the eyeliner will so you may want to apply a little more during your event, but you want to be careful not to have a clumpy look of mascara on the eyes so apply more at your discretion.
4. Powder (this one is my favorite)
Applying powder to your face will give you an instant lift. It will make you look like you have just applied your makeup and walked out the door. It can be a little tricky though because applying additional powder throughout the evening can cause you to look like you have a ton of foundation on by the time the event is done. The easiest way to freshen up your face without creating a heavy look is by using a no color powder or a blot powder. This is especially great for those with oily skin who constantly need to remove shine to create a smooth matte look on the face.
5. Mirror
You can purchase a little compact mirror from just about anywhere a small mirror is all you need so that you can quickly freshen up your look anywhere you are.