by Laurette Willis, Director of PraiseMoves, LLC www.PraiseMoves.com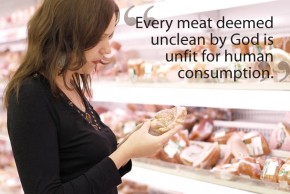 Jesus, being a devout Jew, did not eat pork. In fact He used pigs as receptacles for the demons within the Gadarene demoniac (Luke 8:22-39). The man was set free when Jesus evicted the demons from him and sent them into a herd of swine. The pigs were destroyed when they plunged off a cliff into the lake and drowned.
God didn't arbitrarily forbid the Jews from eating certain foods. God doesn't operate under the law of "whim." Every meat deemed unclean by God is unfit for human consumption. In 1953 science caught up with that truth when Dr. David Macht of Johns Hopkins University published a study on the toxicity of animals listed as clean and unclean in Leviticus 11 and Deuteronomy 14. He ran tests to determine their toxic effects on a controlled growth culture in his laboratory ("An Experimental Pharmacological Appreciation of Leviticus XI and Deuteronomy XIV," Bulletin of Historical Medicine, Johns Hopkins University).
Not surprisingly, every animal God calls toxic science finds toxic, too. Unclean animals include: swine, horse, rabbit, squirrel, dog, cat, bear, opossum, groundhog and rat. The clean animals (cloven-hoofed and chew the cud) include cattle, goats, sheep, oxen and deer. Interestingly, the blood of all animals is more toxic than the flesh. God commands us not to eat the blood of animals (Leviticus 19:26).
Many of the animals God calls unclean eat flesh or have parasites that would sicken or kill humans. Pigs, bears and vultures eat decaying flesh. Wolves, lions and other predators often prey on the weakest, sickliest animals in a herd.
Clean birds include poultry (chicken, turkey, geese), ducks, pigeons and quail. Many supermarkets now carry chicken raised without antibiotics or hormones such as the MBA Brand Smart Chicken®. We certainly don't need to be ingesting synthetic estrogen (a hormone typically given to chickens). Pre-menopausal, peri-menopausal and menopausal women need to be especially aware that hormonal imbalances may be linked to synthetic estrogen and estrogen-producing foods.
Instead of pork, how about turkey franks or kosher beef hot dogs once in a while? There are many good soy products available now from soy sausages and burgers to taco "meat" and chili. A stir fry with fresh vegetables, crumbled soy burger, slivered almonds and water chestnuts is a quick and easy dinner your family will love. If you're concerned about estrogen-producing foods, try fermented soy products such as tempeh instead of regular soy.
Archeological Evidence of Benefits of Eating Clean
There is archeological evidence that the ancient Israelites were healthier than their Egyptian counterparts. In 1991 Jane Cahill published an article in the Biblical Archeological Review based on examinations she made of the remains of toilets in ancient Jewish, Roman and Egyptian households. Jane must have a wry sense of humor, because the article is entitled, "It Had to Happen, Scientist Examines Ancient Bathrooms of Romans 568 B.C."
The Egyptian toilet remains showed evidence of eggs from tapeworms, Trichinella, Schistosoma and wire worms (all found in pork). The remains of the Jewish toilets showed no parasites or infectious elements, only pollen from the vegetables, herbs and fruits they had eaten. In short: Eat clean, eat lean and always eat green (lots of veggies!).
Note: Laurette's new TV show for children just launched on TBN's Smile of a Child network – also available LIVE on the internet! "PraiseMoves Kids" is the first faith and fitness show for children. Enjoy PraiseMoves and working out to the Word, HipHop2 Scripture, fun with Daksi the talking turtle, nutrition and more Thursdays at 3:30 EST/2:30 CST/12:30 PST at http://smileofachildtv.org.
***
Christian Fitness Expert Laurette Willis is the Director of PraiseMoves Fitness Ministry, offering DVDs and training for those interested in a Christian alternative to yoga, at http://praisemoves.com. To follow Laurette on Twitter visit http://twitter.com/Fit4Christ and on FaceBook: http://facebook.com/praisemoves. For the new "Power PraiseMoves" DVD trailer, the free "Fit Favorites Devotional" and PraiseMoves FitNews, visit http://praisemoves.com.
See "PraiseMoves Kids" TV Show every Thursday @ 3:30 p.m. EST on TBN's Smile of a Child Network and LIVE @ http://smileofachildtv.org
© Laurette Willis 2010