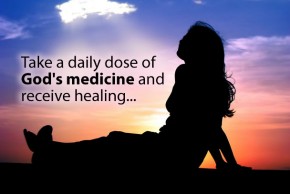 by Laurette Willis, Director of PraiseMoves, LLC – www.PraiseMoves.com
"My son, give attention to my words; incline your ear to my sayings. Do not let them depart from your eyes; keep them in the midst of your heart; for they are life to those who find them, and health to all their flesh" Proverbs 4: 20-22
In this passage we discover that God's words "are life to those that find them and health to all their flesh." The word for health in Hebrew is marpê' which literally means "medicine." You can consider speaking the Word over your life as taking daily doses of God's medicine! The Word of God is medicine from which you can never overdose. It is the method by which our faith grows ("Faith comes by hearing and hearing by the word of God" Romans 10:17). If you've ever wished you had more faith, you can stop wishing and start listening and speaking. We tend to believe more what we say than what others say, so speaking the promises of the Bible aloud over our lives is a definite faith builder. Listening to scriptures read to soothing music is also helpful.
Since God's words are "life to those who find them and health to all their flesh," the more you dwell on God's words and thoughts the healthier and stronger you'll become spiritually, emotionally and physically. These are not "magic formulas" or "vain repetition." You are agreeing with what God says about you instead of what the enemy is saying about you. With whom do you choose to agree? Which thoughts will you choose to entertain—and serve?
Joshua said to the children of Israel, "Choose for yourselves this day whom you will serve… But as for me and my house, we will serve the LORD."
Speaking aloud God's promises in the Bible in faith will supercharge your prayer life in wonderful ways, too. Don't think you're a good pray-er? Meditate on and speak the Word of God aloud in faith and you'll find that your prayers for yourself and others are more powerful because they'll be tied to the Word of God. Instead of offering up begging and pleading prayers, pray prayers filled with the promises of God—they're full of faith! Faith pleases God, and "He is a rewarder of those who diligently seek Him" (Hebrews 11:6).
We take a greater responsibility for our words when we take seriously what Jesus said in Mark 11:24 that whoever "believes that those things he says will be done, he will have whatever he says."
Whenever I catch myself worrying or dwelling on negative thoughts, Scripture reminds me to "(cast) down arguments and every high thing that exalts itself against the knowledge of God, bringing every thought into captivity to the obedience of Christ" (2 Cor. 10:5).
Like a big child, I will often reach up and act as if I could grab the thought with my hand and throw it to the ground, stepping on it! "Gotcha!" I say. "I cast down that vain imagination. I refuse to entertain those thoughts."
Next step? I choose to fill my mind with God's thoughts (His Word in the Bible) instead of negative thoughts. We do not have to be a slave to negative thoughts. I choose to say one or several scriptures aloud, or scriptural affirmations (that's a verse from the Bible said in the first person so you can take it personally).
While we walk in the flesh, we are not to do battle in the flesh.[1] That's why positive affirmations that are not based on the Word of God have only limited effectiveness. Scriptural affirmations work because you're using what Ephesians 6:17 calls the "sword of the Spirit." Sure, it's nice to say "Every day in every way I'm getting better and better." As a New Ager before I became a Christian, I used to parrot that phrase over and over again. If saying it did anything for me I never knew it.
However, it's much more effective to speak with boldness the Word of God by affirming, "I can do all things through Christ who strengthens me. I am strong in the Lord and the power of His might. I'm more than a conqueror through Him who loves me!"[2]
As an experiment, I invite you to say these scriptural affirmations aloud right now and watch what happens! Speak them aloud, boldly declaring what your heavenly Father says about you:
"I can do all things through Christ who strengthens me. I am strong in the Lord and the power of His might. I'm more than a conqueror through Him who loves me!"
There! It's impossible to dwell on negative thoughts with those God-inspired, faith-filled words coming out of your mouth. Isn't that just "name-it-and-claim-it"? Well, if I can name it in God's Word and prove it's something He wants me to have, I claim it! I certainly don't believe in trying to claim things the Lord has not promised me, but I'm also not going to push away those things He wants for my family, my church family and friends, my country and me.
There's a God-given check on the inside of you which ensures you will not fall prey to such nonsense. In 1 John 3:20, 21, he writes, "For if our heart condemns us, God is greater than our heart, and knows all things. Beloved, if our heart does not condemn us, we have confidence toward God." If you tried believing God for something that wasn't yours (someone else's money, mate, house, ministry, etc.), your heart would condemn you because you would be coveting, which is a sin. You would suffer spiritual heart failure! You couldn't have any real faith for such a thing because your heart would not be in agreement; you would have no confidence toward God.
We can choose to pray in line with the Word of God, think His thoughts (meditate on the Word) and boldly declare that no matter what the circumstances may say to the contrary, what God says is truth and the truth will stand.
"While we do not look at the things which are seen, but at the things which are not seen. For the things which are seen are temporary, but the things which are not seen are eternal" 2 Corinthians 4:18.
[1] 2 Corinthians 10:3 says, "For though we walk in the flesh, we do not war according to the flesh. For the weapons of our warfare are not carnal but mighty in God for pulling down strongholds."
[2] Based on Philippians 4:13; Ephesians 6:10; and Romans 8:37
From The Busy Woman's Guide to Total Fitness by Laurette Willis (Harvest House Publishers)
Christian Fitness Expert Laurette Willis is the Director of PraiseMoves Fitness Ministry, offering DVDs and training for those interested in a Christian alternative to yoga, at http://praisemoves.com. To follow Laurette on Twitter visit http://twitter.com/Fit4Christ and on FaceBook: http://facebook.com/praisemoves. For the new "Power PraiseMoves" DVD trailer, the free "Fit Favorites Devotional" and PraiseMoves FitNews, visit http://praisemoves.com.
See "PraiseMoves Kids" TV Show every Thursday @ 3:30 p.m. EST on TBN's Smile of a Child Network and LIVE @ http://smileofachildtv.org
© Laurette Willis 2010