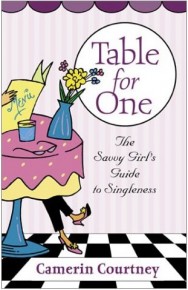 Can we talk?
I mean really talk about what it's like to be single? If you're like me, it's a roller coaster ride of loneliness when I sit in a sea of happy couples at church, joy during giggly Girls' Night Outs, exasperation at being asked for the 247th time why I'm not married yet, happiness from the freedom to travel at the spur of the moment, and grief over the unmet expectations for this phase of my life.
Pull up a chair, and I'll let you in on a few singleness survival secrets I've learned over the years mostly through trial and error such as creating a "family of friends," pursuing other dreams, and letting men and our families off the hook. In these pages you'll find a much-needed reminder that God's crazy about us single girls and that true satisfaction isn't found in the arms of "Mr. Right" but in making the most of wherever God has us even if that's at a table for one.
Camerin
A happy, successful, God-pleasing life comes in a variety of packages. "And contrary to what our churches, married friends, society, and nosy Aunt Marge may tell us, that includes singleness." In this up-front book packed with girl talk and plenty of pep, Camerin Courtney reveals how she transformed from a self-conscious single girl to an I-am-single-hear-me-roar woman. While she admits that she still has "singleness stinks" days, Courtney doesn¹t indulge in pity parties or offer readers a guide on finding Mr. Right. Table for One is, instead, an optimistic, up-beat look at the many emotions, expectations, joys, frustrations, and privileges of singleness. It shows how to dive into God¹s plan and purposes for this phase of life whether it lasts for four years or forever. Fun and encouraging sidebars sprinkle the text, covering everything from must-see movies to a list of great things about singleness (i.e., "If we buy floral sheets, no one complains.") This savvy, girlfriend-to-girlfriend guide to singleness will delight and inspire single women. It offers great insight for friends, families, and church leaders who want to encourage them as well.