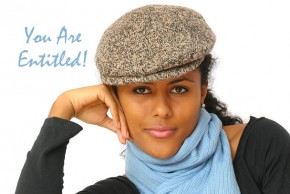 by Mia Green
I'm beautiful. I mean seriously… I really am pretty, and that's not a cocky statement. I am entitled to look beautiful and feel beautiful because I am royalty. After all, my Father is The King of Kings!" Being a Christian woman doesn't mean that you must wear your skirt all the way down to the heel of your foot and don a thick slather of Ivory soap and St. Ives lotion as your only beauty regiment! You are entitled to look beautiful, feel beautiful, and just be beautiful!
Now, that isn't a carte-blanche pass to wear micro-minis and things of the sort. There is an order that must be followed as a member of a royal family that represents The King and His Kingdom; however, you can express your self-confidence, your sense of style, and your beauty–it's your birthright. Understand that Jesus died not only to save us from an eternity separated from The Father, but also to deliver us from various bondages including self-doubt. So, if the son has set you free then you are truly free to be ________! (you fill in the blank)
As you are putting together your wardrobe for Fall, don't hold back. Go for the gusto, look glamorous, feel beautiful, and be self-confident. After all, you are entitled to be _______! (you fill in the blank)
Here are a few of Inspired Women Magazine's top fashion picks for the 2010 Fall season.