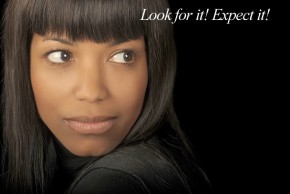 by Mia Green
For some people when they have an unexpected revelation or good fortune happen in their lives, they get really excited about it. They run and tell everyone they can about the "good luck" they experienced. I, on the other hand, don't get overly excited about what others call "luck" because I expect it.
Everyday when I get up, I expect something wonderful to happen to me or for my family. I look for it. I expect it. Being a child of the King has certain perks and benefits, and good fortune, luck, serendipity whatever you'd like to call it is lavishly poured out upon all of the King's children. In fact, He calls it favor, blessings, grace, mercy—-you get the picture.
It's easy to become over familiar with the day-to-day monotony of life and to overlook the many good fortunes that may cross your path on a daily basis. It's even easier to overlook the many opportunities that we have to bring good fortune to others. As a makeup artist, I personally look for ways to enhance the lives of others by volunteering my talents and skills at various shelters and for community driven initiatives.
I challenge you, whatever terminology you use—-be it good fortune, luck, favor or blessings, wake up each day and look for it being bestowed upon you while you simultaneously look for opportunities to bestow it upon others.