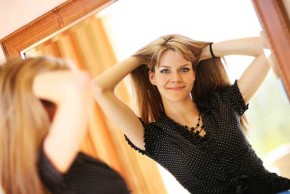 By Laurette Willis—
"And do not be conformed to this world, but be transformed by the renewing of your mind, that you may prove what is that good and acceptable and perfect will of God" (Romans 12:2).
Does fitness begin by doing a lot of acrobatics (physical or mental)? It does feel that way sometimes, doesn't it? Where do we begin? Most of us would say that to make physical changes, we must begin with our body.
But what part does the spirit and soul play?
In 1 Thessalonians 5:23 Paul prays "may your whole spirit, soul, and body be preserved blameless…" You are a spirit who has a soul and you live in a body. Your soul consists of your mind, will and emotions.
What's on your mind? It's estimated that we think about 60,000 thoughts per day at a speed of 600-800 words per minute. Do you find your thoughts consistently running along positive paths or negative ones? When something bad happens do you think or say, "It figures. Nothing good ever happens to me."
Or do you say, "You know what? I'm not moved by this because God said in Psalm 34 that 'Many are the afflictions of the righteous, but the Lord delivers him out of them all,' so we're coming out of this one, too."
Does God "Tell it like it is"?
Why are people who quote God's Word called extremists and fanatics while those who quote Murphy's Law are considered realists who are just "telling it like it is?"
Did you know God never told us to "tell it like it is?" In fact, if that were the way God operated, creation would not have happened.
Imagine if God had stepped out into the black void of space and said, "Hey it sure is dark out here." It would still be dark! What God says is truth. He cannot lie. God chose not to "tell it like it is." Instead He "calls those things which do not exist as though they did" (Romans 4:17).
He used His Word and said, "Let there be light." And there was light. (In Hebrew, the words are translated, "Light be!" in Genesis 1:3.) Since we're made in the image of God and Ephesians 5:1 tells us to be "imitators of God as dear children," doesn't it make sense to say what God says instead of what the enemy and the world say?
Start Looking in a New Mirror
Thinking and speaking God's words and thoughts will change you. Your faith will grow as you hear the Word of God. You will begin to see yourself in a new light, a new mirror: the Word of God. It will become easier for you to encourage and bring hope to others, for you'll begin to know that the Lord can help them.
Situations that used to baffle you will become easier to understand. Health and fitness issues will also become easier to solve, for godly fitness is tied more to the development of the fruit of the Spirit (Galatians 5:22,23) than any diet or exercise routine.
Look at yourself in the mirror of God's Word today. You will LOVE the way you look – in Him.
Christian Fitness Expert Laurette Willis is the Director of PraiseMoves Fitness Ministry (http://PraiseMoves.com and on Facebook http://facebook.com/PraiseMovesFan). Get your free fitness kit at http://ChristianFitnessKit.com ©2012