Karin Syren, The Vision Coach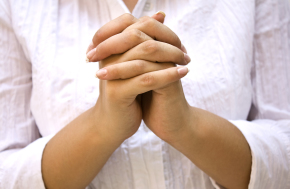 For whatsoever is born of God overcometh the world:
And this is the victory that overcometh the world, even our faith.
1 John 5:4 KJV
Look at our Scripture again and this time, replace world in both instances with whatever your faith needs to overcome — right now.  Is it illness, infirmity, depression, loneliness, grief, financial issues…?
Now look at your faith in the midst of these overwhelming circumstances.  Has it become white-knuckle faith?  Do your arms ache with the effort of hanging on to the promises of God?  Have you ever been ready to just give in and let go?
Experience has taught most of us that the key to living the victorious life is not in being free of problems, but in overcoming them by faith.  There can be no victory where there is no battle, often not necessarily a strategically brilliant battle!  If this sounds familiar, be encouraged, your victory is already assured; take hold of it by faith and don't let go.
If that sounds way too simple, let's take a look at Peter's experience.  After all, he's the disciple most of us can readily identify with.
Peter was the only one of Jesus' disciples who even entertained the notion that he might have water-walking faith, faith strong enough to step out on Jesus' promise.  (Matthew 14)  You might be thinking, but Karin where in the Gospel account do you see a promise about walking on the water?  It's right there in verse 29.  Jesus said Come.  That's the Word of God and ought to be promise enough for any of us.  But only one of His chosen, closest companions was able to catch so much as a glimpse of promise in that Word!
It's true that Peter saw it, yet he still made the mistake of allowing himself to turn and look at the circumstances.  It was when he shifted his eyes off the promise, come, that he began to sink.  The result – he let go of the promise!
Even then Jesus was there to take hold of him, pull him up and bring him safely into the boat.  Matthew 14:31 tells us that immediately Jesus stretched out His hand and took hold of him.  He did not say, Peter because of your doubt, I'm going to leave you floundering about in the waves to drown.  He did not forsake him, and He did not use near drowning to teach Peter a lesson!
What Jesus did rebuke Peter for was his lack of attention to his faith.  The scripture in the NAS translation reads, O you of little faith, why did you doubt?  The little can denote value, but it can also indicate duration.  We know that Peter's faith had value, or it would not have been enough to get him out of the boat in the first place.  So, it is likely that Jesus was reproving Peter for not hanging onto his faith long enough.  Had Peter held his focus on the promise, and not begun to look around him, his faith would have been adequate.
Have you stepped out on a promise, a word from God, and are you becoming overwhelmed by the circumstances, beginning to feel yourself sink?  Take heart.  If your faith was enough to get you out of the boat, your faith is enough to get you where you are going.  Hold onto His promise, Take courage, it is I; do not be afraid…come. (Matthew 14:27, 29)  Jesus is speaking to you from across the waves and through the wind.
Even in your certainty that God has called you to come across the water, perhaps you are like the eleven who stayed cowering in the boat.  More than likely though, you, like Peter, who stepped out enthusiastically, only to be overwhelmed by the circumstances.  If this describes where you are right now, how do you begin to reclaim your own water-walking faith?
Begin by taking time today to chronicle your call from Him.  Record what the Holy Spirit has spoken to you, what He has placed in your heart.  Refresh yourself in God's personal call to come across the water.
Then the LORD answered me and said, "Record the vision and inscribe it on tablets, that the one who reads it may run.
Habakkuk 2:2 NAS
Next, record the circumstances that seem so overwhelming to you.  Know that what God has called you to can never be accomplished in your own strength, regardless of how favorable the circumstances.  Just as Peter could no more walk on water on a calm midday than in a stormy night, you cannot accomplish what only God's power can bring about.
Then, step out of the boat and, by faith, trust that same faith to take you the distance.  It's not about what you can do – it's about focusing on the Word He speaks to you – and nothing else!
Finally. record every step in a chronicle of your journey and stay attuned to the Word of God.
I don't know about you, but I needed to hear this, and I am blessed and encouraged!
***
Copyright 2014 © Karin S. Syren
All rights reserved.
Adapted and reprinted by permission of the author
The Bible Minute, Xulon Press, Inc.
Copyright © 2010, Karin S. Syren
The Bible Minute is available at Amazon.com or Barnes&Noble.com, as well as from a variety of other online book sellers.  The Bible Minute can be purchased for Kindle readers, as well as being available from the Amazon free Kindle Library and to subscribers of kindleunlimited.
Karin is a certified life coach specializing in the process of creating strategic visions for personal and organizational leadership.  Discover what makes you unique and how to form your future around it.  For more information see her website at Solushunz.com.