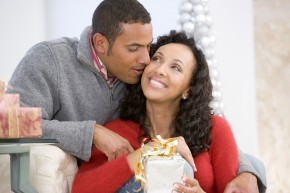 by The Love March
www.TheLoveMarch.com
The holidays are a notoriously difficult season for singles. But they don't have to be! This holiday season, give yourself the gift of a twinkling new love life. Here are five super simple ways to meet men this year:
Get social. It's SO tempting to curl up in front of your fire with hot cocoa and Bing Crosby blasting, but the beautiful thing about the holidays is togetherness. There will be parties. And ice skating. And church volunteer opportunities. And work shindigs. And if there aren't any, plan one. Carve some pumpkins. Plan a mini road trip to chop down a tree – you'll need a little muscle for that. Any maybe even your town has an outdoor Christmas market where you can go to buy presents and stop by the booth with loose leaf teas, grab a scoop and ask the guy standing next to you to smell how good it smells and what his favorite is. Bam. A conversation.
Instead of doing a secret Santa with your girlfriends, do a secret guy friend swap and throw a party where in addition to each girl bringing something holiday-y to eat, they bring a vetted, quality guy friend for their girlfriends to meet. Don't tell the guys of course and throw in a few other friends so it doesn't feel like a quintuple date!
Ask for gifts that boost your love life. Ask for a gym membership, (gyms are chock full of men!) a Match.com subscription, a gift card to your favorite clothing store to buy a few standout pieces or even to Starbucks, so you can sit there reading a book, smiling, striking up conversations with men while you sip your Pumpkin Spice Latte. Or be adventurous and ask for a blind date for Christmas this year!
Volunteer at church (or at a friend's!) Jump in on that snow shoveling at the nursing home Saturday event (physical volunteer tasks tend to attract the men in your church) … or stuff Thanksgiving baskets and deliver them to families who need them – in addition to blessing people, these opportunities to serve that stretch you beyond your comfort zone have an incredible way of bonding the people involved.
Hope these tips totally change your love life! And if you enjoyed them and want to go deeper, with a brain-bending, heart-pumping, Bible-rooted game plan to find and marry your future husband, sign up for our 8 module online course, The Love March. You can start today! You'll learn:
Why you haven't been meeting men in the places you've been going and new, no-brainer places to go
How to be absolutely spellbinding and irresistible without compromising a thing
How to make a man realize you're his exact type
How to get the godly, handsome man you're dating to beg you to marry him
Why the devil hates the idea of your future marriage, and how to use God's Word to silence him
What you've been doing your whole dating life that needs to stop today
What your girlfriends won't tell you about your online dating profile pictures
The simple, Biblical heart shift that attracts men – and all good things for that matter
How finding your husband is like sowing seeds, and what it means to use "the numbers" in your favor
Happy Thanksgiving, Christmas and New Year's! Can't wait to hear your love stories.
Love,
In Christ,
The Love March
www.thelovemarch.com